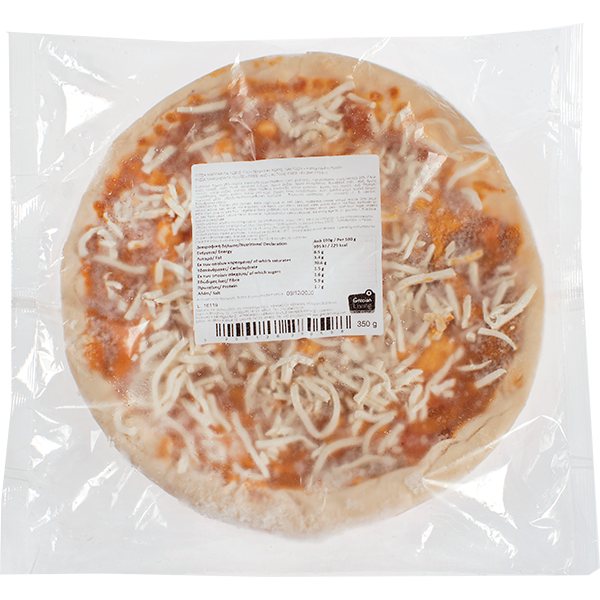 PIZZA MARGHERITA 350GR
SKU: 0074
GRECIAN LIVING pizza margherita, which is gluten-free, lactose-free, egg-free, contains, inter alia, fiber, bean flour, linseed oil, fresh yeast, sea salt. A delicious pizza, with a 28cm thin pastry, topped with a classic tomato sauce and sprinkled with lactose-free Parma cheese. Its special packing per piece ensures easy baking and, more importantly, baking avoiding cross-contamination, because it can be baked into its packing. Use an air oven and follow the baking instructions.
Gluten Free
Egg Free
Wheat Free
No Preservatives
High Fibre
| | |
| --- | --- |
| | Per/100 g |
| Energy | 995 kj / 229 kcal |
| Fat | 8.5 g |
| Of which saturates | 3.5 g |
| Carbohydrate | 30.6 g |
| Of which sugars | 1.5 g |
| Fibre | 1.6 g |
| Protein | 5.9 g |
| Salt | 1.6 g |
Tomato 25% (tomato, extra virgin olive oil, salt, basil), mozzarella without lactose 20% (milk without lactose, salt, rennet, milk enzymes), rice starch, corn starch, sea salt, water, potato starch, rice flour , sunflower oil, extra virgin olive oil, bean flour, fiber (potato, rice, psyllium, flaxseed, lemon, bean), sugar, millet flour, linseed oil, salt, fresh yeast, natural flavor, methyl cellulose, baking raising agents: (D-glucone-1, 5-lactone, sodium bicarbonate c).
Partially baked and frozen product.  Store at -18°C.  After defrosting it should not be frozen again.
Product lifetime: 12 months
Dimensions: 26 cm Round Pizza with thin dough
Baking instructions: Preheat the oven to 230°C. Place the product in the oven, as it comes into its special packing (to prevent cross-contamination), for  about 15 minutes (no defrosting required).
10 pieces / box