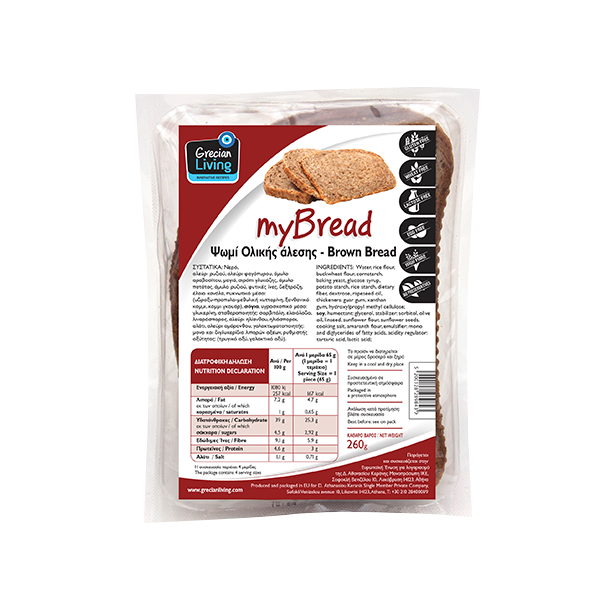 GRECIAN LIVING BROWN BREAD 260GR
SKU: 0045
A delicious whole wheat bread, packed in large slices. Of high nutritional value and rich in fibre. It can be served in many ways (canapés, sandwiches etc.), also with appetizers before meals and as a side dish.
Gluten Free
Egg Free
Lactose Free
Wheat Free
High Fibre
The package contains 4 servings
Net Weight: 260 g
Per/100 g
Per Serving Size = 65 g
(1 serving size = 2 pieces)
Energy
1,080 kj / 257 kcal
167 kcal
Fat
 7.2 g
4.7 g
Of which saturates
1 g
0.65 g
Carbohydrate
39 g
25.3 g
Of which sugars
4.5 g
2.92 g
Fibers
9.1 g
5.9 g
Protein
4.6 g
3 g
Salt
1.1 g
0.71 g
Water, sourdough (buckwheat flour, rice flour, water), rice flour, corn starch, buckwheat flour, rice starch, potato starch, rapeseed oil, glucose syrup, psyllium fiber, cocoa fiber, thickening agents (guar gum, xanthan gum, hydroxypropylmethyl-cellulose), isolated soy protein, inulin, hydroscopic agents (glycerol, sorbitols), olive kernel oil, linseed, sunflower flour, sunflower seed, salt, yeast, flour with amaranth, glucose, emulsifiers (mono- and diglycerides of fatty acids), acidity regulator (tartaric acid).
Suitable for people with gluten intolerance.
Storage requirements: Store in a cool and dry place. The product is packaged in a protective atmosphere.
Product lifetime: 4 months
Dimensions: 14.9 cm (length) × 18.7 cm (width) × 5 cm (height)
6 pieces/box