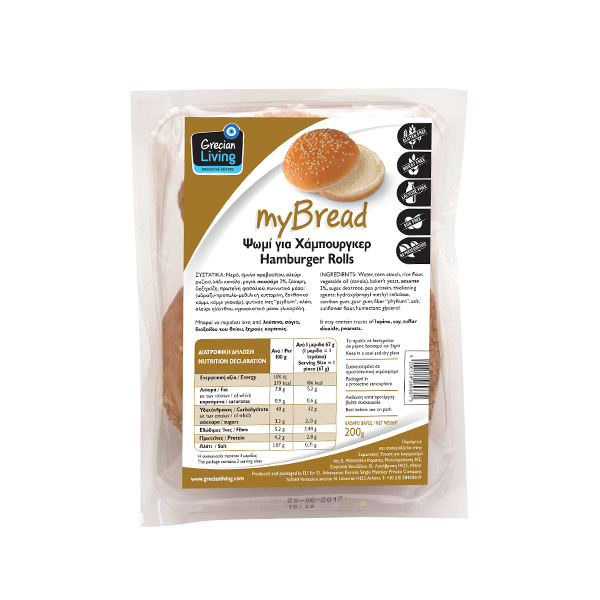 HAMBURGER ROLLS 200GR
SKU: 0046
If you are on a gluten free diet, with these hamburger rolls you have a unique suggestion for making a gluten free hamburger, using fillings you prefer and staying true to your diet.
Gluten Free
Egg Free
Lactose Free
Wheat Free
No Preservatives
High Fibre
The package contains 3 servings
Net Weight: 200 g
Per/100 g
Per Serving Size = 67 g
(1 serving size = 1 piece)
Energy
1,176 kj / 279 kcal
186 kcal
Fat
7.8 g
5.2 g
Of which saturates
0.9 g
0.6 g
Carbohydrate
48 g
32 g
Of which sugars
3.2 g
2.13 g
Fibers
5.2 g
3.48 g
Protein
4.2 g
2.8 g
Salt
1.07 g
0.71 g
Water, corn starch, rice flour, vegetable oil (canola), baker's yeast, sesame 3%, sugar, dextrose, pea protein, thickening agents: hydroxylpropyl methyl cellulose, xanthan gum, guar gum; fiber "phyllium", salt, sunflower flour, humectant: glycerol.
It may contain traces of lupine, soy, sulfur dioxide, peanuts.
Storage requirements: Store in a cool and dry place. The product is packaged in a protective atmosphere.
Product lifetime: 3 months
Dimensions: 14.9 cm (length) × 18.7 cm (width) × 8.5 cm (height)
6 pieces/box