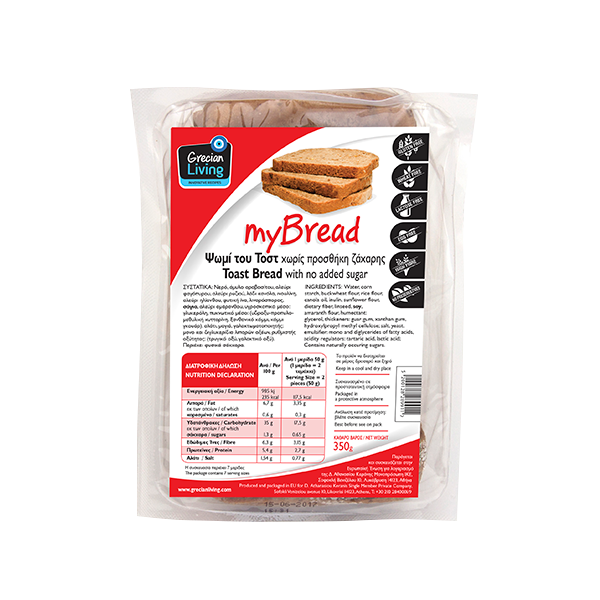 GRECIAN LIVING TOAST BREAD WITH NO ADDED SUGAR 350GR
SKU: 0044
A delicious sliced bread, that can be served with appetizers before meals, alone as a side dish or with fillings you love for cold and hot sandwiches. As with no added sugar, it can be consumed by people on a sugar free diet. It contains buckwheat flour, a good source of nutrients (protein 14%, vitamins -mostly of complex B-, amino acids, fat-soluble vitamins E and K, metals and fibre, as well as complex carbs that stabilize blood sugar) that cannot be found in corn and rice, usually consumed by people on a gluten free diet, thus enriching their diet.
Gluten Free
Egg Free
Lactose Free
Wheat Free
No Sugar Added
No Preservatives
High Fibre
The package contains 7 servings
Net Weight: 350 g
Per/100 g
Per Serving Size = 50 g
(1 serving size = 2 pieces)
Energy
985 kj -235 kcal
117.5 kcal
Fat
6.7 g
3.35 g
Of which saturates
0.6 g
0.3 g
Carbohydrate
35 g
17.5 g
Of which sugars
1.3 g
1.3 g
Fibers
6.3 g
3.15 g
Protein
5.4 g
2.7 g
Salt
1.54 g
0.77 g
Water, corn starch, buckwheat flour, rice flour, canola oil, inulin, sunflower flour, dietary fiber, linseed, soy, amaranth flour, humectant: glycerol, thickeners: guar gum, xanthan gum, hydroxylpropyl methyl cellulose; salt, yeast, emulsifier: mono and diglycerides of fatty acids, acidity regulators: tartaric acid, lactic acid.
Contains naturally occurring sugars.
Store in a cool and dry place. The product is packaged in a protective atmosphere.
Product lifetime: 3 months
Dimensions: 14.9 cm (length) × 18.7 cm (width) Χ 8.5 cm (height)